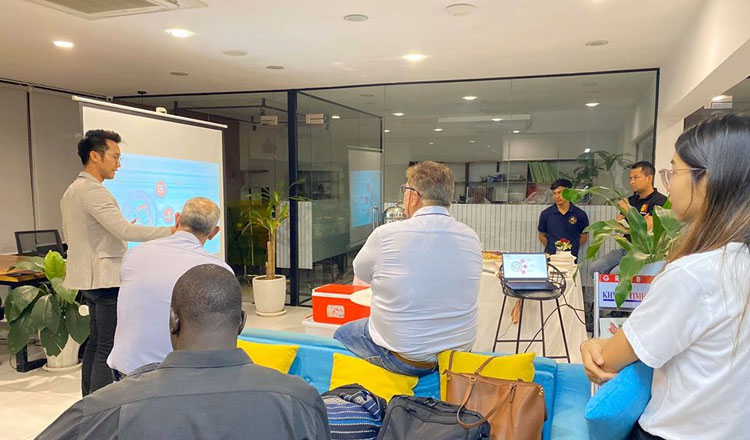 Monday night saw the first foray of World Innovations Forum Foundation in Phnom Penh, gathering an eclectic group of local and international entrepreneurs as part of their Seeding Innovation 2020 programme – a bid to change the way international development is done.
"We believe that change needs to come from the inside, rather than through external forces," said co-founder and chairman of the foundation, Axel Schultze, working alongside his wife Marita Schultze, who serves as co-founder chair of the board.
Claiming that over the past 70 years, development aid worth $4 trillion had failed to create "serious impact", Mr Schultze believes he can assist in fostering entrepreneurial ecosystems to "help emerging countries emerge from themselves."
Mr Schultze cited examples of Switzerland, Germany and South Korea, whose economies were forever changed – for the better – by small but dedicated groups of innovators and went on to say that he hopes to see this spirit of entrepreneurship applied to development.
As such, World Innovations Forum has made it their mission to build on the entrepreneurial ecosystems of countries, linking them internationally and allowing them to learn from each other to become stronger as a collective. Having visited 17 countries, Mr Schultze said he aims to find 50 entrepreneurs from each one and help them to turn their ideas into reality.
Through distance collaboration, mentorship, webinars as well as regional incubator and accelerator programmes, Mr Schultze hopes to see more innovations make it to initial public offerings and participate in global stock exchanges.
Among the companies present for the Phnom Penh meet-up was Accelium – a sustainable agro-food company aiming to channel the expertise of educators into rebalancing rural and urban wealth. Lending from the engineering skills on offer at the Institute of Technology of Cambodia, Accelium seeks to apply polytechnic know-how to the agricultural market.
Moving from agriculture to e-commerce, Shop Run Back presented their vision of sustainable reverse logistics, claiming that 17 million returns are made to e-commerce sites every single day. The logistics necessary for people returning unwanted items to online shopping platforms is estimated to be worth $6.5 billion by 2023 and Shop Run Back claims that 80 percent of people are unsure of returns policies or procedures when buying online.
Having processed 2 million returns already, Shop Run Back sees great potential in Cambodia as a regional hub for logistics – an as-of-yet relatively untapped market.
Up next was Camazoon – another e-commerce platform, but one with a manufacturer-to-business angle hoping to profit on the growing popularity of online shopping in the Kingdom. Offering some 100,000 products, Camazoon seeks to tap into the supply chain game to provide lower-cost goods to businesses, as well as an online platform to sell them from.
The World Innovations Forum is hoping to help these entrepreneurs and more across the region with their five-day accelerator programme in Ho Chi Minh City, Vietnam, on Nov 25. This will be the foundation's eighth accelerator programme, having worked across Asia and soon heading to Africa.